• TOUR DIARY (click HERE for selected set lists)

NOVEMBER 7, 2007

Hello friends. So so so so very much is happening and has happened since the beginning of tour. I'm pretty sure a detailed and lengthy account would be too long and too boring, and since we're half-way through already, I present you the first installment of the 2007 FUTR tour in list form, concise and bite-sized. There will be another entry sometime following to recap whatever does or doesn't happen, but here, in chronological order are the signifiers of the experiences...

* Sellwood drives to Brooklyn from Michigan by himself to shoot the video and pick me and Andrew up for tour.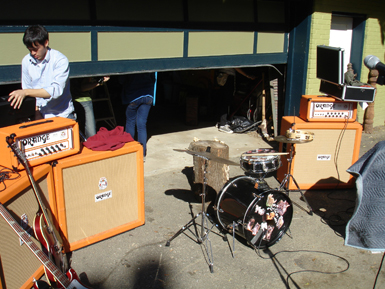 * We shoot the video, a short film soundtracked by our song "Money In The Afterlife", produced by Mind All Your Insides a small New York production company. The video is shot in upstate New York at a haunted ass mansion and the surrounding forests. The experience is easily the most professional thing the band has ever been involved with, complete with a ten-person crew, a cube truck to carry all the lights and equipment, scuba gear for the underwater footage (WTF?) and three huge amps on loan/sponsored by Orange amps in Norway. Ryan couldn't make it out for the shoot, so Michael David from Andrew's NYC band Creaky Boards sits in as drummer and fourth band member. There are two 16 or more hour workdays, ending at six am on Sunday night after singing underwater fully clothed for about three hours.

* We sleep for four hours and drive from New York to Michigan.

* A few hours of practice and then off to tour with The Blow! The first show is in Columbus Ohio at a huge art gallery/theater where bands like Wilco and Bright Eyes play. The stage is so big that for shows like this, they set up another smaller stage on the stage and the audience stands on the stage looking at the other stage. Our friends from Brooklyn, High Places play this show also and are amazing.

* Directly following the show I realize I am sick as hell with what becomes the worst cold I've had in years. We drive to Philadelphia and I can barely lift my head off the van bench.

* Somehow the Philly show is great, though I pass out and cough for hours right afterwards. We meet up with Karl Blau, who plays lovely songs and is a radical man. Andrew drinks an entire bottle of whiskey and dances ridiculously during the Blow.

* DC is really great, if still ill, and New York at the Blender Theater is among the best shows the band has ever played. After the set,
someone says "Hey man, great show. You should go say hi to your two newest fans." And points to David Byrne and Cindy Sherman in the balcony. I have a moment of self-worth crisis, but then go introduce myself and both of them are extremely nice and complimentary, asking about the band and where they can buy a CD. I check off a box on my mental list of life goals.

* We get to Boston, the last show of the Blow tour extremely late. The doors are already open in the Museum Of Fine Arts auditorium and we play a hasty, rushed show, but it goes over really well all the same. I start the set with the Modern Lovers song "Girlfriend", which name checks the museum, even though I don't really know it, and the lyrics are insubstantial except for that reference. After our show I do a sick-headed and semi-incoherent but always affable interview with 30 Music and say hi to Kristin, Phoebe, Nadav and other Boston homies. We say a sweet and slightly sad goodbye to Khaela and Melissa who have been great and friendly to tour with.

* We sleep for six hours and drive from Boston to Michigan.

* A week of rehearsals for our Chicago shows, trying to not cough. Sellwood has gotten as sick as I am.

* The Chicago shows go off amazingly, though both are way early and kind of a bummer in that. The stupidest idea is having a show at a dive bar that ends by 11pm so you can clear the room and have another show. Sorry if you came by The Hideout at regular rock and roll time and we were already come and gone. The Schuba's show is the more spiritual of the two nights, with Great Lakes and Mason Proper in the house, and Doug Coombe, our non-official photographer in the house celebrating his birthday. A beautiful night. We record both for a potential live album in 2008, with help from the amazing Erik Hall. Set lists are up ASAP and Chris from Dub Narotic.org filmed both shows and posted them here (link to youtube search for Saturday looks good to me). Thanks to all the sweet folks that made it out, especially all of you who drove long distances.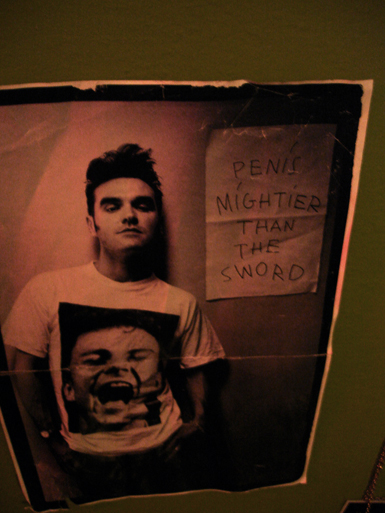 * We sleep for a few hours and drive back to Michigan for a day. Then leave immediately for CMJ.

* CMJ kinda sucked this year, guys. We had good shows, with the exception of abysmal sound and super late vibes at Luna Lounge for the K Records showcase, but really, what was it all for? Everyone seemed to be going through the motions this year, and nothing was so exciting that it garnished the big-ticket feeling of years past. Our set at the BrooklynVegan showcase was nestled in-between super-hyped and ultimately mediocre Black Kids and so-so ex-Unicorns project Islands, and who cares? My first CMJ jam in 2003 was off the chain exciting, drunken, overwhelming and everything you would hope for, and then I wasn't really paying much attention subsequent years. This time around, the blogger culture that permeated the events and general vibe left a sour taste in the collective mouth. Make a magazine, fuckers. Or maybe put some more thought into how you like music or why you see shows, and really, focus. In a time when a snippet is the full story and a slogan is the novel, the simulacrum quotient is out of control and accepted as the norm. Soon we'll see the effects of living as photocopies without originals, or maybe we won't and I'll just bemoan the loss of the mixtape and the paper letter a little more 'til everyone writes me off. Sooner the better. The most exciting parts of CMJ this year for me were hanging with Mariella, jamming on bass with Adrian Orange seconds after meeting him and driving the van to Long Island to buy a bed at Ikea with my beloved. Then again, there was a big Michigan contingency, with half of our band being linked to Canada and mitten murderers left and right everywhere you looked. The Chouette showcase at Cake Shop was fun, and marked the first ever City Center show, and somewhere in there we drove up to Providence so I could play solo at Corleone Records' ten year anniversary jam. Maybe the more you know what to expect the less things feel amazing.

* We sleep for a few hours and drive from New York to Michigan.



JUNE 2, 2007
SONGS BEYOND
OR
COME INTO THE AIRPORT LOOKIN' EXTRA FLY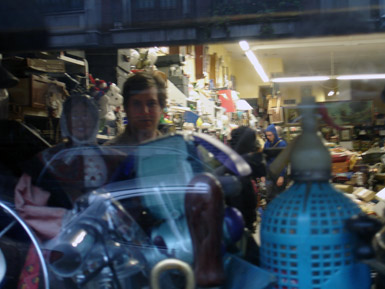 Back home in Portland for the time being, finally reaching a state of decompression. Maybe I've written about the dread PTD Post-Tour Depression) in previous tour journals, but I don't think those feelings apply to the last tour. Usually a few days after you get home are spent pacing around, listening to music you got on tour, catching up friends and loved ones on all the ridiculous events that transpired and meeting blank looks when you try to explain a multitude of in-jokes and extrapolations that invariably form when you stuff a few people in a van for weeks on end. This time, however, is more like a bag of rocks slowly eroding into sand then even more slowly trickling out. I can say without question that the last month of my life has been one of the most difficult and most fulfilling times I can remember.

Last we spoke the group had just finished our initial weeks in Sweden and had gotten to the UK. We had a series of really good shows in Cardiff, London and Nottingham all with The School, a large indie pop ensemble who were playing their first shows with us on a mini-tour. London was fantastic, playing at Jamm in Brixton as part of our friend Ian's How Does It Feel club night. The Saturday night was fantastic, playing hands down our best London show to date to a full house. The next night was equally astounding, as we hopped on a show taking place at a bowling alley in Central London thrown by the Pop Art kids. The bowling alley show was way looser, more ridiculous and lighthearted than the night before, and a completely different set, including me starting a Jonathan Richman cover Chris had never played before much to his laughable dismay. We stayed with Dianne and her friends in Tooting, and everyone else went to check out the Tate Modern Museum while I laid low and started writing new songs.

After our time in rainy London eating HobNobs and watching weird British soap operas, we had a single day to ferry and drive to Barcelona. When we got there we were informed that our Spain shows were part of a tour with Pheonix Arizona power pop group The Format, and we were supplying the drums and various other gear. News to us, as the tour planning segments were sketchy at best, but not a problem. We were also met with astonished looks in Spain due to the facts that 1.) We'd actually driven through Germany and France to get there and 2.) We were still alive and sane and 3.) We could fit everything in our little hunk of shit van. We basically ate some food, played and crashed out for the night in Barcelona, which is too bad because I've heard it's one of the most amazing and fun cities in the world, but endurance was low. The next night in Valencia we played with Lisa Germanno, who tempered her amazing and other-worldly songs about rainbows and death with a full-blown on-stage meltdown that would have made Chan Marshall blush. Me and Juan and Ryan were wrapped in amazement at how beautiful the music was, song after song, only to be shaken out of it by Lisa stopping mid-verse to talk about how she felt ridiculous playing quiet music "This late at night" or smashing her hands in a cluster of noise on the piano keyboard. Maybe that's her act, who knows. It was also about this time in the journey that I began my personal foray into malnutrition. Being a vegetarian with vegan leanings, Spain is not the place to thrive. Several times the language barrier and shaky, starved thinking had me ordering what I thought were potatoes or vegetables at little cafes only to find out I'd just gotten mini sausages or crinkle-cut crabmeat. It was rough, but eating a lot less got my body running in a way sharper and stranger way than I was used to, and eventually I could even feel good about it, vaguely. Madrid was by far the most amazing of our Spanish shows. It should be noted that the guys in The Format were all awesome people, and showed us more respect and consideration than almost any band we've done opening slots for, especially bands we weren't acquainted with before hand. It was a total joy to play shows with them and the commradery was strong. Our promoter Paula in Madrid was the best, explaining she started her club night with hopes of bringing Joanna Newsom over and right after Joanna on the list of dream bands, Saturday Looks Good To Me. Joanna had played earlier that month, and we had come along right on schedule, so it was working out pretty good for Paula and Neu Club. The show was fantastic, one of our best ever. We sold almost all of our remaining merchandise that night, which meant a sad goodbye in the form of abandoning our long-trusty but now far worse-for-wear merch suitcase. I got the behemoth of a case on tour in 2003 outside of Toronto, and it served us amazingly for years, traversing the world and back several times, always keeping our 7"s and t-shirts safe and crispy. But now, after all that service and one too many rough airplane trips, the thing was falling apart and totally fucked, so I took one last photo and just left it in the club. We'll miss you suitcase.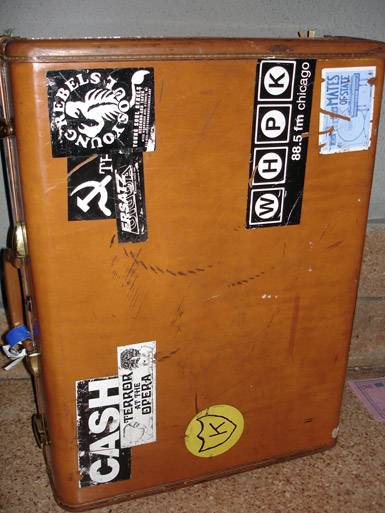 After the show there was dancing and drinking until sunrise, and everyone in the entire town was in on it. We left the American-themed bar where the dj was playing Motorhead and AC/DC at 5:45am and there was still a line to get in. Prostitutes propositioned Ryan when he asked for directions and we stumbled back into the hotel for a restful four hours of sleep before starting the next part of the journey. All of our Germany shows fell through at the last minute, so we were stuck with six days off. This is horrible in Europe, not just because you're not playing shows, but also because it's terrifically expensive to feed and house five people every night. Some advice to the young traveler, especially in a fledgling band trying to play somewhere else:

1. Have as many shows as you can deal with. If you're not being hosted or playing somewhere, you have to deal on your own, and finances aside, someone to guide you through the wilderness is always better.

2. If you know you're gonna be somewhere in advance and need a hotel or somewhere to stay, always always always book it online or figure out someone who can put you up ahead of time. This saved our ass a few times on the week we had off and burned us to death when we couldn't make it to Sweden in time to stay with friends due to closed highways and insane fatigue.

3. When you go into a public toilet stall, always check to see if there's toilet paper first before you get into anything. Trust me on this one. Make it a habit.

4. Try to get a travel agent or someone related by blood to a travel agent in your crew, because if so, you can be like we were when we made a quick call to Ryan's mom who miraculously hooked us up with a hotel room for a couple days in Bilbao, Spain where we got to relax, catch up on sleep and see the huge Guggenheim museum. The art was just ok, but the time off was astonishing.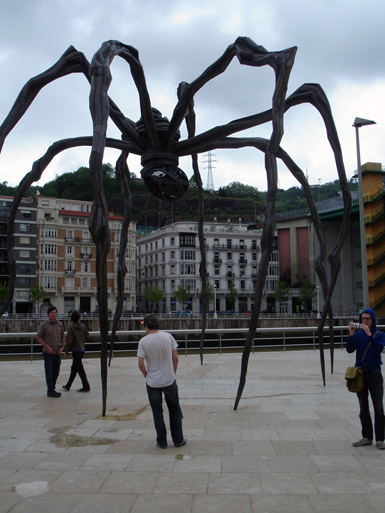 There were many hours of driving to get back to Sweden, and two really great shows to end the tour. One in Lund at a semi-anarchist bunker we played once before where the college-type kids came to drink and be mirthful. I played Jens Lekman's "Black Cab" as an impromptu encore, and everyone went berserk. The next night was at Cozy Den in Gothenburg, and we had a ridiculously high-energy show to wrap things up before we drove all night back to Copenhagen and then flew for 16 hours back to Michigan. That show might have been the caper of all shows we played, or maybe I was just delirious. At one point, though, I noticed everyone was screaming. The entire audience was actually shrieking in what seemed to be terrified delight. The best. I can't wait for our fall tour to show the states what we've been working on abroad for a while. I think it's gonna be a big thing. I'll save the sob stories about airsickness and crowded planes and how I still need to sleep for about 122 hours before I'll feel like a person again. Instead, I'll tell you about how we got through security in Copenhagen and there in line behind us was our friend Denison Whitmer. Funny seeing you here, Denison, and it looks like you're a lot less tired then we are. Apparently he was on tour also with Rosie Thomas and was fresh-faced and stoked to get home as well. In Chicago we were all still cracked out and waiting for our last connection to Detroit and who sits down but our friend Dan Bennet from NOMO, apparently flying back from a little time in London. Conversation was at an all time low by then, but another odd and cool happenstance, running into him like that. After the majority of the band parted ways in Michigan, I still had another plane to catch back to Portland, which I slept thru completely, finally. I'd pared down my belongings so much that the three suitcases and guitar case I'd made it out with a month prior were down to one carry-on, borrowed from Scott last minute. I jumped off the plane as quickly as possible and scooted towards the exit. As I walked in a rush, who did I see in the PDX airport sitting there on his cell phone trying not to be noticed? None other than Kanyee West. He asked me how my tour went and I told him "Kanyee, you know I'm too tired to talk about it right now. Read the tour journal in a couple days." Looking forward to seeing you all again in October. Thanks for everything.



TOUR DIARY ARCHIVE


BACK TO TOP OF PAGE • HOME