•

PRESS





SELECTED REVIEWS



Lunapark6 Reviews "Cold Colors" and thinks it's just ok...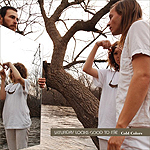 ...and 30Music also thinks it's average...
...but AMNew York thinks it's pretty sweet!...
All Music Review of "Cold Colors"
This guy RAINBOWTRASH reviews "Green Mansions" and also put up a vinyl rip of it on mp3 for you to hear.
Here's a few songs we recorded at SXSW 2007 for mp3.com. They also have some sort of summary page set up, but the videos are the most important thing. Everyone looks so bored!
"For the past five years, Saturday Looks Good to Me has been releasing irresistible pop nuggets that magically bridge the gaps between the Beach Boys and Jesus and Mary Chain, Motown and the Happy Mondays, and Phil Spector and My Bloody Valentine. Sound on Sound a 30-song, 80-minute collection that spans the band's entire career, is a sheer delight and virtually impossible for anyone in the pulse range of 60 to 90 BPMs not to like."-Delusions of Adequacy review of 2006's "Sound On Sound" collection CD...
Pitchfork reviewed it as well!
so did Indieworkshop.com... they reviewed all our records! It's kind of hard to tell if they liked them or not, but they did in fact review all of them.
Pitchfork Review of 2004's "Every Night"
Pitchfork Review of 2003's "All Your Summer Songs"... which they liked enough to name one of the top 50 albums of the year!


PRESS IMAGES

Visit the Saturday Looks Good To Me Gallery section.


BACK TO TOP OF PAGE • HOME