INTERVIEWS

MOVING FORWARD: A CONVERSATION WITH 4AD FOUNDER IVO WATTS-RUSSELL, TEN YEARS AFTER LEAVING THE LABEL

When the opportunity arose to ask the man behind 4AD some questions about the label he created, I jumped at the chance. What follows are some questions posed to Ivo Watts-Russell about his two decades at England's 4AD label, his life and how music changed him forever...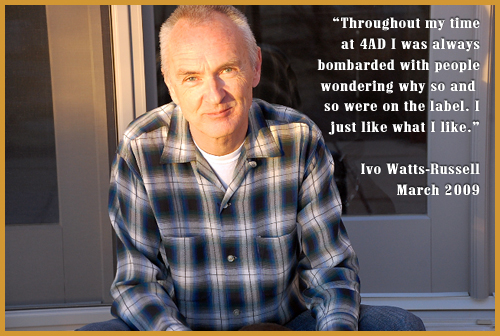 Where were you born, and when? Do you have any siblings?

I was born on a farm a mile or two outside of a small town in Northamptonshire called Oundle. I have 7 older brothers and sisters.

At what age did you first get interested in music and how was it listening to the radio? Visiting your local record shops?

My first recollection of an extreme response to music was watching Jimi Hendrix perform Hey Joe on Top Of The Pops. That would have been 1967 when I was 12. Very soon after that I became aware of John Peel's Top Gear show, Saturday's on Radio 1. The first show I listened to had sessions by Pink Floyd, Hendrix and Cream. That was all it took. To paraphrase J Lennon, music, this music, was the first thing that made sense in my life. Anyone growing up in England in the mid 60s would listen to the pirate stations Radio Luxembourg, Radio Caroline and Radio London which broadcast appalling quality signals every evening. If you've ever heard the Who Sell Out you will have heard the Radio London jingles.

There were no record shops in Oundle but, peculiarly, one could order singles from the local bicycle shop. I remember getting 45s by The Marmalade, Pretty Things, The Nice and Jason Crest that way.

Did your parents play music around the house while you were growing up?

Never. Siblings bought Beatles, Roy Orbison, Buddy Holly and Their Satanic Majesties Request (still the only Stones LP that I really like) LPs. I also enjoyed West Side Story soundtrack. Still makes me cry to this day.

What kind of influence did John Peel have on you?

Huge. I first heard and fell in love with Fever Tree, The Nice, Leonard Cohen, Blossom Toes, Free, Taste, Mothers Of Invention, Beefheart, SRC, and countless others that I still enjoy today. He was like my professor.

Do you remember some of the first records you bought as a child? Do you still like them today?

The first 2 LPs that I bought (I did own a Gerry And The Pacemakers LP that my father gave me one Christmas) were Are You Experienced and Piper At The Gates Of Dawn. I'm sure others a lot older than myself would agree that they still remain two of the most original and IMPORTANT records ever made. The Thoughts Of Emerlist Davjack, Bee Gees 1st, We're Only In It For The Money (now that was confusing to a 12 year old), Shades Of Deep Purple all followed fairly quickly. I own all of them (except Bee Gees) in Japanese mini-LP replica format now.

Was what you were listening to as a teenager different from what others your age were into?

Most of my friends seemed oblivious to music.

What were some of your most favorite bands and albums from your teens and early twenties?

That's so hard to answer. I had an insatiable appetite and curiosity that was easy to explore during the years I worked in London record shops. Real eye openers that I recall, that still inspire, are John Cale's Paris 1919, Pearls Before Swine's Use Of Ashes, Paul Winter Consort's Icarus, the first 2 Pure Prairie League albums, The Madcap Laughs, Tago Mago by Can. I continued to worship Pink Floyd.

Were some of these favorites what guided you when starting 4AD?

Not at all. The times had changed and music that might be available to a fledgling independent label based in London was going to be informed by the post punk ethic of limited musicianship and youth.

What were some of the first concerts you attended? Were these in your hometown or London or elsewhere?

The first live show I ever saw was an impressive bill. Headliners The Who had been preceded by The Herd, Traffic and The Marmalade. It was at the Odeon in Kettering and I remember being very disappointed, having gone to the "matinee" show, that PT didn't smash his guitar.

I also went down to London to see Pink Floyd a few times and was lucky enough to see The Mothers Of Invention at the Royal Albert Hall in 1969.

Van der Graaf Generator (I didn't understand them at all), Barclay James Harvest, Gypsy, Steamhammer, King Crimson, Family, Santana are all shows I remember in the years before I moved darn to Lundun.

When did you move to London and how old were you? Where did you first start working upon your arrival? What were your duties there?

1972 and I was 17. I got a job in a cool part of town, High Street Kensington, in a decidedly uncool shop that sold electronics (hair dryers, radios etc.) as well as records. I think it was called Normans. Old boy Norman was on one side of the shopping refusing to replace faulty vacuum cleaners whilst his daughter, Sue, and I manned the music side. Ironic that, in 1972, I was attracted by the fact that they still had Piper At The Gates Of Dawn sleeve in the window! I will be eternally grateful for Mr. N giving this shy, spotty and fresh off the farm boy a chance. Prior to that experience I had no concept of how records actually got into the shops. It never occurred to me that you had to order them. They taught me the ropes and how to remember catalogue numbers.

Discuss how you met and eventually hired Steve Webbon to be your assistant...

Not a lot to discuss really. I only lasted 6 months at Normans. I was a quick study and needed to work in a proper shop and get access to IMPORTS! I'd moved to a suburb of London called Ealing. Now, being a man with both enthusiasm and retail experience, I was able to get an assistant's job at a fantastic shop called Musicland. They were a cool chain throughout London that I'd visited on many an occasion on day trips to London. The manager, Mike Smith, was impressed by my asking for the somewhat obscure Dave Mason import Alone Together before whispering "do you need any help?" He, second to John Peel, was responsible for opening my ears to any number of artists that still populate my personal airwaves.

A few months after I started working there, Mike moved to manage a brand new shop in Wimbledon, I became manager. Naturally, I needed an assistant. I remembered being impressed by Steve Webbon as a customer. Not only did he start asking for Gram Parson's GP weeks before it came out but he actually looked exactly like him! I can't really remember talking to him much before asking him if he wanted the job. Proved to be a fateful request as, years later, he would introduce me to his old Oxford pal, Martin Mills.

How long did you work in record shops before you left for Morocco?

3 years exactly.

What did you do in Morocco? Were you exposed to any local bands there that further refined your musical tastes?

Sampled local delicacies. Don't remember any music.

When did you return to London and what was your initial plan – to find a music related job of some sort?

After 10 weeks, which would have been mid-75. As I said, I don't remember hearing music whilst away but I vividly remember being sat down by a friend, upon my return, and being handed headphones to listen to I'm Not In Love for the first time. I felt like I was tripping! I also remember him telling me that Tim Buckley had died.

I didn't have a plan at all but went to visit Steve Webbon, who was now running the second Beggars Banquet shop in Fulham. We had a good, long chat and Steve suggested I go and meet Martin Mills at the BB flagship shop in Earls Court because they were about to open a 3rd shop, amazingly back in Ealing, and he needed an assistant. Funny how the world turns.

Describe your first meeting with Beggars Banquet boss Martin Mills...

Not much to describe. Martin said "do you want a job?" I said "yes, please". That was pretty much it. I think I started right away, getting taught the ropes of buying and pricing used records which was new to me, at the Earls Court shop until Ealing was ready.

Over the years your duties evolved to more of a manger of all the Beggars shops. What were these years like – a crash course in running a chain of shops?

I don't know if you've worked retail but, even with the perk of being able to listen to music all day, dealing with the general public can be a challenge. Having enjoyed my time in the Old World, I was now keen to get a taste of the New. I was given a leave of absence (bless them) and fucked off to visit my brother who was studying at UCLA in AMERICA. It had been agreed, upon my return, that I would take on the position of over-seeing all 4, soon to be 6, shops. However, my first day back at work found me in the Ealing shop, once again, training a friend to be manager. I felt like a caged animal after 3 months of sunshine and my first glimpse of the American South West. After an hour, I called up Martin and quit.

Fast forward about six months, when my dole (unemployment) checks were being stopped and I was faced with a clerical job at Ealing Town Hall, I made yet another phone call to Martin M. I pleaded with him to give me a job but he seemed reluctant, stating that there was only an assistant's position available which would be a bit of a step backwards. I forcefully suggested that it would be a holiday in the park compared to the clerical job on offer. He needed to consult with his partner, Nick Austin, and said he would do so and call me back. A few minutes later the phone rang and Martin informed me that Nick had suggested that the job I had run away from was still available and did I want to do it? I will be eternally grateful to Nick Austin for his generosity.

It was not a job I enjoyed, especially because quite a few friends were now working in the different BB shops and I was expected to tell them what to do. But the times were pretty exciting. The impact of punk on music, culture and even society in general can not be over emphasised. I was more interested in the likes of Chrome or Pere Ubu than Slaughter and the Dogs or Chelsea but the idea that anyone could have a go was infectious.

How did you and Peter Kent meet up – through Beggars?

Yes. When I came back, based at the Earls Court shop with the record company upstairs, Peter was managing the shop.

What kind of bands were dropping off demos to you and Kent that you felt compelled to bring to Mills and Nick Austin (Beggars co-founder)?

The only one I really remember was Modern English with their demos for Modern World/Drowning Man etc.

Did it just get to the point that Mills and Austin were exhausted from yours and Kent's constant recommendations? Is that what instigated the idea for a label of your own?

In part, yes. But most likely they probably saw the value in starting a new imprint that could stand outside the parameters of their deal with WEA. Beggars never were independently distributed.

What band was the turning point that convinced Mills to finance a sub-label? Was it Modern English? Rema-Rema?

Maybe they got wind of the fact that I was talking to Brian Brain about financing an EP for him. Not sure how I was going to do it because I didn't have any money but this was London in 1979, I was 24 and anything seemed possible.

Rema Rema came later, after Axis. M.E. too.

What was the Modern English demo like? Would this have been before or after their pre-4AD Drowning Man single?

Before and after. The demo we signed them on contained Swans On Glass, Incident and Home.



How much seed money did you receive from Mills? Was this considered a lot of money then? Did you and Kent milk that money for all it was worth?

2000 Pounds was what we had to get going. Seems impossible, now.

How did you and Kent come to settle on the name Axis Records?

Must have been a particularly uninspired day. I can't remember really though I do know it was PK's suggestion that I happily agreed with. Thank god we had to change it.

What were your initial plans for the label. Did you have any bands in mind apart from Modern English, did you go through the demo box with a fine-toothed comb or was it a combination of all the above?

We didn't have Modern English in mind because they were in the process of putting out their first single themselves. Beggars had turned them down. They came back later after 4AD was up and running. For some reason Peter and I agreed that we wanted to establish an imprint, an identity, straight away and this would be best achieved with 4 singles simultaneously. Over a short period of time we had agreed on The Fast Set (Peter knew Dave Knight already and convinced me we should pay for him to go into a studio even though I'd never heard a note of music by him), Bearz (we released the demos), Bauhaus (we were both in the shop when they all came in to see Gary Numan's record company) and Shox (I doubt if even Peter can remember why. Actually he probably thought it would be a hit. He was always much more optimistic and ambitious than I).

Describe the evolution of meetings with studio engineer John Madden which led to connecting with Martin Atkins aka Brian Brain. Was this before the initial batch of Axis singles came out? Whatever became of the Brian Brain release and of Atkins himself?

I think I met them both at the same time when they, too, brought a demo to Gary Numan's label. Gazza was HUGE. The Brian Brain EP came out somewhere else and Martin moved to Chicago, became Pigface didn't he?

What labels were you and Kent fond of at the time? Did you take anything from their success and directly apply that to your label?

Factory, absolutely. That's about it. At the time I felt it was worth listening to anything on an independent label but didn't "trust" any one label to be reliable. Contrary to what has been suggested elsewhere I didn't care for Postcard at all, with the exception of Josef K's It's Kinda Funny single.

Where were the first 4AD offices located? Not in the main branch of Beggars Banquet, right? How long did you stay at that location?

What offices?!!! We worked out of the shop's back room and basement. Later, when I stopped doing the BB shops job, I got a place at the table upstairs. For the longest time I didn't have a chair but sat on an empty gas cylinder. We stayed there until the very beginning of 1983.

Was it planned to release four singles more or less at the same time as the way to introduce the label to the world?

Yes.

Was this inspired by what other labels had done at their starts?

Don't think so because I can't think of anyone that did that.

Were the initial first four singles intended as one-offs or were there plans to work with those bands in the future?

We gave them all these absurd 5 year contracts that Martin and Nick insisted we use. At that time Axis, then 4AD, was Beggars Banquet Ltd trading as Axis etc. This allowed us to carry on working with all 4. We chose to do so with Bauhaus.

Who designed the Axis logo and labels?

A friend of Peter's, Mark Robinson (Robertson?) He also designed the 4AD blue label, Swans On Glass sleeve. He died in 1980.

How did you devise the 4AD catalog numbering system. It's apparent that you arranged it to follow very clear cut rules. Whose purpose was it is designed for more – yours or the record buying fans? It definitely appears to be rather calculated compared to the general chronological numbering of other labels like Factory or Rough Trade...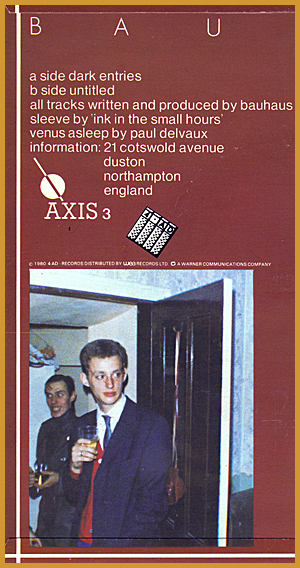 I, for some strange reason, wanted to be able to differentiate one year from another. Each year, I felt, had it's own pivotal release. Not that I knew that was going to be the case in 1981!

Did you hitch on to the Beggars distribution system to get the single to stores or did you and Kent opt to do it by yourselves?

We did it ourselves. However, both Bauhaus' Dark Entries and Shox were pressed, briefly, as Beggars versions as well and "benefitted" from WEA distribution. Dark Entries was Beg 37 if I remember rightly. I can't even remember what the Shox single was called.

How did you first hear that there was in fact an already operating label called Axis? Was their contact legally harsh or were they willing to let things be if you simply chose a new name for the label?

We got a phone call. We had a press release in Music Week (trade paper) describing this new label called Axis. I guess the existing Axis saw it and got on the blower. They were very nice. They didn't have a problem at all with us selling off our initial pressings. I can't remember if it was 3 or 5,000. Anyways, only Bauhaus was ever repressed on 4AD. Lucky, really, 'cos that way I can almost live in denial about the other 3 ever existing. They weren't particularly brilliant.

How did you and Kent settle upon 4AD as the new name for the label?

Very quickly! I remember getting off the phone with the Axis people, saying "shit", looking down at this flyer that Mark had designed for the 4 singles that was a play on 1980 Forward. Something like:
1980 Forward.
1980 FWD
1984 AD
4AD

One of us, I think it was me, said "what about 4AD?" That was it.

This was before any involvement with Vaughan Oliver – who ended up designing the 4AD blue "checker" label?

Yes, before Ollie but he came on the scene a bit later (AD 15). As I said earlier, Mark R designed the blue label.

Apart from the Gathering Dust single from Modern English that had the sleeve design input from Vaughan Oliver, who was responsible for designing the sleeves during that first year? The bands themselves? What about for something like the Mass single You And I, adorned in a plain white jacket with a center hole to expose the label and a simple "MASS" in bold, black type on the front?

John Maybury designed Bearz and The Fast Set (came up with that name as well). You might know him as a movie director these days. All of the others were designed by the artists themselves, though I'm not sure that's the case with The The. Oh, and I did Presage(s).

Wasn't that Bauhaus single, Dark Entries, repressed as the first official record to bear the 4AD name, using that new blue logo, after the Axis batch sold out?

Yup.

Was Bauhaus the engine that built the foundation of 4AD during that first year? Were you surprised by this level of early success or did you have a hunch Bauhaus were going to be a hit?

It didn't necessarily feel like success or failure at first. It just was what happened. They already had a bit of a following after releasing Bela Lugosi's Dead on Small Wonder and the fact that their first John Peel session aired the same week we released Dark Entries didn't hurt. Certainly having an LP sell as well as Flat Field did, in the dying months of 1980, was useful in terms of funding more LPs the following year. I did notice their, and PK's, desire for success grow rapidly and considerably in a short space of time. Best illustrated in their changing attitude towards Telegram Sam. At first it was something they scoffed at the idea of recording but within months, perhaps with PK's encouragement, were adamant should be an "A" side.

How did you end up releasing the Rema-Rema EP? Was that another demo box gem discovery? Did you pretty much release the demo as is?

Before Beggars, Peter had worked in a shop on the Kings Road. I think he knew Marco from those days. All I know is I returned to Hogarth Road one day, after a trip dropping off records at the other shops, to find all 5 members of Rema Rema behind the counter, dominating everything, with Peter. I don't remember what was said but I do remember shivering with excitement when, after hearing their tape, I realised that WE could release it. For me that was a defining moment. 4AD was going to be something that would take over my life. Wheel In The Roses was as good as anything I'd ever heard in all my life. The fact that they were amongst the most interesting and diverse people I'd ever meet didn't hurt either. I treasure that moment.

Where did you find that photo used for the front cover of Rema-Rema's Whell In The Roses?

Michael brought it. He, mostly, designed the sleeve. Interesting, because that image alone, 20 years earlier, inspired cinematic/photographic genius (or puppet of the Nazi's propaganda machine, depending on your perspective) Leni Riefenstahl, to go and seek out the Nuban tribes of the Sudan. Her published photographic works from those visits remain as controversial as her documentary work in Germany during the 1930's.

Were you frustrated that Rema-Rema broke up just as the EP came out?

They had already split up when they came to us. Perfect.

When it came to Modern English, you and Kent were already aware of the band, right? They had already released a 7" before 4AD began in 1980. How did you go about getting the band signed to the label?

Yes. We had encouraged Beggars Banquet to sign them before they released Drowning Man themselves.

I think we called them up once Axis was underway and asked them if they wanted to work with us.

Wasn't the second Modern English single for 4AD (Gathering Dust) the debut of Vaughan Oliver's design with the label? How did this relationship come about?

Mark R was unavailable but recommended a friend. Vaughan Oliver. Modern English had been making t-shirts that amended a photograph by Diane Arbus to include their own logo, that they had used on their Drowning Man single. It was this idea they wanted to develop for the Gathering Dust sleeve. Bizarrely, inside Vaughan's portfolio, that he brought to Hogarth Road the evening I first met him, was his own adaptation of the very same image. That's what was used, with a few changes to accommodate the group's ideas. Talk about a serendipitous coincidence.

The cover for Modern English's Swans On Glass seems to be the first of many cover designs to utilize the song lyrics directly to create a final image. Is this something you've enjoyed over the years of Oliver's work?

I'm sure it is but that sleeve wasn't one of Vaughan's.

What was the initial deal between the label and Oliver and how did it evolve?

One job at a time, just like any other designer I worked with. In 1983 he became my first employee. When I hired him I sort of envisioned him working alongside me, getting involved with all day to day aspects of running a label. After watching him spend 3 weeks coming up with the X-Mal logo I realised that sort of involvement from Vaughan was looking unlikely. He was very quick to take on outside work, even after he was employed by myself full time. It was the cause of considerable (unspoken) conflict over the years.

Your first year was really off to a great start. To follow up on this initial success you managed to land some stellar bands – Matt Johnson, Gilbert & Lewis of Wire and The Birthday Party. Describe these signings coming to the label, along with the other bands that fleshed out your first year (In Camera, Mass and Dance Chapter)...

There's nothing really special or interesting about how we met. Perhaps of interest is which of myself or Peter were the instigator of the signings. I think it boils down this way:
Peter: In Camera, The Fast Set, Shox, Bearz
Peter/Ivo: Rema Rema, Cupol, Modern English, Bauhaus, Presages, Mass, Dance Chapter
Ivo: The The, The Birthday Party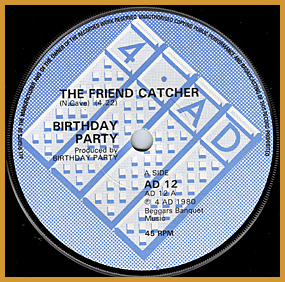 Actually that's not that interesting at all.

These were not obviously bankable bands in the pop charts sense but you must have had a hunch of the greatness that would emerge...

I can't over emphasise that the whole thing was very much one day at a time, one release at a time. The aim was to learn and improve whilst putting out records that I would want to buy myself. Can't speak for PK.

How did you manage to get rights to the Birthday Party releases?

I went to the Moonlight club in West Hampstead to see a band that I liked (The Lines) open for DAF. The Birthday Party, unbilled, played first. No one was paying any attention to them and it was actually difficult to find out who they were. Someone suggested that Daniel Miller, of Mute, had asked them to play. I called him the next day and he gave me a phone number where I got hold of Mick Harvey. I told Mick how much I'd enjoyed them and he invited me to come and see them play the next night at the Rock Garden. This show was fairly well attended, mostly by visiting Australians, and even more impressive than the previous performance. I squeezed into the cupboard known as the Rock Garden's dressing room and spoke with, first, drummer Phil Calvert and then Mick Harvey. I said that the song I was most impressed with was called The Friend Catcher. Mick said "we've recorded that already. Do you want to put it out?" That was that. Thereafter 4AD became their label in the UK and a few other European countries until they left for Mute in 1983/4 and their last recordings as The Birthday Party, Mutiny. I liked the tidiness of us, later, getting to release Mutiny on CD.

How much did press reviews matter to you at the time? Did they endorse the realness of the venture or were they hard to read, adding pressure upon an already pressured year?

I don't remember much support from the press in 1980. There certainly wasn't any kind of recognition that the label was forging it's own individuality. Possibly because that individuality came later. Even then, it was never easy to find real allies in the weekly papers.

Being a fan of Wire and then to welcome members of the band to the label must have been exciting. This must have been interesting, the Controversial Subject single by The The produced by Bruce Gilbert and Graham Lewis of Wire and then you co-producing the Burning Blue Soul album with the duo also…

154 remains a masterpiece to my ears so, yes, it was amazing to meet, first Graham and Bruce, at a Bauhaus show and seriously discuss them making a record. I think we gave them sixpence and they went off and made Cupol in a few days at Blackwing.

Matt did some tracks by himself, some with me in 16 hour sessions at Spaceward in Cambridge where we would rent the 2 inch tape for the session and watch it being erased at the end of the session. Couldn't afford to buy it! I can't remember how much G & B did. Wasn't it just one song?

The 3R4 album by Gilbert and Lewis was a hulking and daunting piece of work.

Very monochromatic.

How did you react to it upon first hearing it?

Probably a little disappointed that it didn't sound anything like Wire! I'm very grateful to them for introducing me to Eric Radcliffe and Blackwing. Of course I also met John Fryer there as well but that was a bit later. John once told me that his experience of watching Graham and Bruce work was the most valuable of his engineering career. With them, as well as many others in those days, there were no rules. This was something John picked up on and proved to be extremely helpful to me in later years when I would work with John as the house engineer at Blackwing. So many studio engineers are bullies that huff and puff and, basically, ridicule those that don't approach music in an orthodox fashion. John wasn't like that at all. He was as naive and curious as the rest of us.

When later compiled on CD in 1988 you added the singles Ends With The Sea and Like This For Ages (initially released under the name Cupol). What do you think of the collected 4AD works of Gilbert and Lewis, almost thirty years later?

I actually played it, for the first time in many years, whilst typing this and really enjoyed it. Still has no competitors. Apparently Henry Rollins played Like This For Ages on the radio in L.A. recently. My wife heard it, had no idea I had released it, and asked if I knew who Cupol were because she thought it was great. Brilliant!

What was the idea behind the Presage(s) compilation? It's not really a label sampler as only one band (Modern English) had anything else released by 4AD. Who came up with the choice of bands and songs – was it a joint venture between you and Kent?



Sometimes you hear a song or two by a band or artist that you really like but the rest is, well, less appealing. Presages was just us cherry picking from a few demos. Psychotik Tanks, CVO and Red Aitkens were Peter's choices. The Last Dance and Spasmodic Caress were mine. Modern English's Home was just knocking about. Not an important release. I think The Last Dance got into serious negotiations with Beggars but nothing came of it.

Are you blown away that Red Atkins (aka Frank Duckett) is actually still making music and even reissued Hunk Of A Punk from Presage(s) on CD to include a newly recorded version plus new songs in 2005?

Fascinated. Peter thought Hunk was funny. I didn't.

What does the title Presage(s) mean in relation to the compilation and 4AD?

It means I was a pretentious twat.

Is it true the naked guy on the back cover is Beggars Banquet staffer Steve Webbon? Was he even aware he was being photographed? What was he even doing naked in the first place?

We all were naked (6 of us) most of the time in Greece. It's fun, highly recommended. Nice arse, don't you think?

How many copies of Presage(s) in the various colors (green, brown & black) were made?

3,000 of each? Can't remember.

Do you think it deserves a CD release?

Absolutely, if only for the sake of history. I think at one point in the 90s it was going to be included on some sort of Natures Mortes II.

On the side 'A' run-out groove reads "Where's Telegram Sam?" – was Bauhaus originally intended to be included on Presage(s)?

See what I mean? I think it probably became considered too valuable for inclusion by Bauhaus and PK. They were right.

The Bauhaus album In The Flat Field was also released in 1980, 4AD's first official full length album. What are your thoughts on the album, both at the time and now?

I haven't listened to it in decades but, compared to their singles and live performances, it was a little disappointing. Double Dare, never improved upon from that first Peel session, is absolutely brilliant. It sold quite well.

Financially, just how important was In The Flat Field in 4AD's first year?

Very useful. It's not like we were spending huge amounts of money though.

The band opted not to include any of the singles released before and after the album on In The Flat Field. Was this an issue or were you in favor of it?

Completely in agreement. One of the most significant things, albeit briefly in most circles, to come out of punk was the idea that there was no such thing as an A side or B side. They were simply songs of equal value. Fascinating to think of all the different methods of identifying a side other than calling it A or B. There was this side and that side. This side and over. A and AA and many others I'm sure that I can't recall. Including singles on an LP, was a bit of a rip off.

Initial reviews of the album were not positive yet the album and band proved its detractors wrong with lasting success to this day. Was Bauhaus and In The Flat Field more of a Kent project? How much were you involved with the band?

I wasn't involved at all with the making of it. Peter probably went to the studio a couple of times. He was definitely the one they would consult rather than myself.

With the success of In The Flat Field, in the latter part of 1980, were you excited for the following year's possibilities?

I was excited anyway. Particularly because we all agreed that Bauhaus should move onto Beggars, as was the original purpose of 4AD, and Peter and I would no longer run the label together. We'd both learned the ropes together but clearly had different tastes and ambitions. As mentioned above, I wasn't that close to Bauhaus so didn't resent their "promotion". I really enjoyed them as people. They were from Northamptonshire, same as me.



At what point and why did Peter Kent depart 4AD? Was it a simple departure, his desire to run a label on his own, or was it deeper than that? Are you still in touch with Kent and what do you think of his own Beggars off-shoot label Situation 2, which operated from 1981 to 1992 and had its own successes and legacy?

End of 1980. It was exciting (VERY) for both of us to have a free reign and not have to compromise. Can you imagine the Divine single on 4AD? I haven't seen or spoken with him in at least a decade. He visited me in Los Angeles on his way to spend time with his brother in Hawaii. That didn't work out so, I think, he moved back to Chicago.

That string of Associates singles was one helluva way to launch a label. I guess Situation 2 became the new stepping stone to BB at Hogarth Rd. Peter quit Situation 2 quite quickly, choosing to manage the Associates in search of fame and fortune. Proved to be a mistake for everyone, other than Beggars who got to release the good Associates records and avoid the nightmares to come.

Apart from the Associates, there was nothing else released on Sit 2 that I would have been comfortable with on 4AD. Peter would probably say the same thing about what I chose to release. I liked Gene Loves Jezebel and Drowning Craze first singles quite a bit. Not sure what else there was. Anyway, someone else took over the label once Peter moved on.

Regarding one 1980 release, I noticed that Dance Chapter's two song 7" vinyl single Anonymity was recently reissued by 4AD as a download release and now includes an extra, third song, Uncertainty. Does this ring a bell to you? Was it intended for release on that single at one point then dropped?

I can vaguely visualise the Dance Chapter demo with that title on it. Can't remember the details. Sorry. They were a good group.

Also, with Presage(s), 4AD has reissued it as a download album as well. It now includes a bonus track, a second song by Spasmodic Caress, called Register Of Electors. Again, was this intended for release on the original 1980 vinyl version?

No. I wonder if SC or DC know about that.

Did the Matt Johnson album Burning Blue Soul reaffirm your belief that you were doing something really special, even this early in the label's life?

I loved everything that I was doing. I really enjoyed starting off, on my own, with those 3 one off singles (Sort Sol, Past 7 Days and My Captains). They felt special to me. I do admit that I was disappointed by the reaction to Burning Blue Soul. Having spent time in the studio with Matt it was clear he was a very talented young man.

Burning Blue Soul marked a first for you in that you were credited as co-producer on that album. What necessitated your role as an in-studio producer? Did you enjoy it? Did it spawn your desires and confidence to try This Mortal Coil a few years later?

I think Matt just put that credit on because I'd come up with a few ideas and had, hopefully, been very encouraging. And, yes, I loved hearing a piece of music, getting an idea, expressing it and then hearing, virtually immediately, how it impacted the song. Absolutely helped shape the possibility of what became This Mortal Coil.

Was 4AD still operating as a "testing ground" for Beggars Banquet at the end of 1980? Were you interested in operating more independent of the parent label by this point?

There really hadn't been anything else on 4AD that was considered for that move. Remember what BB were releasing at that time (Merton Parkhas, Carpettes, The Doll, Ivor Biggun, Duffo).

By 1981 the idea of MY label being a stepping stone to that sort of nonsense was, frankly, insulting. I really struggled to separate 4AD from being associated with Beggars. I was single, and bloody, minded and everything else was shite. That was the way it had to be. Martin and Nick were so supportive and left me alone to get on with it.

What kind of reactions and responses did you receive from the public and the press during that first year? Was there anything that impressed upon you either positively or negatively?

I think we might have had a few kind words written in Zig Zag and other fanzines but little else within the press. We did seem to be developing an interest in the label itself from fans which was always more meaningful.

Apart from yourself and Kent, did you have any other staff at 4AD during the first year? Was Vaughan Oliver an employee by this point (end of 1980/early 1981)?

Nope. Just me and P.

Sort Sol had released their Under En Sort Sol (Under A Black Sun) album in Denmark. What attracted you to their music and what led to you choosing two representative highlights from the album as a 4AD single? Did you have any plans to release the full Under En Sort Sol album as well?

There was one other song on that LP that I liked but I think it was too long to fit on a 7 inch and I'd already decided I wanted to release three 7 inch singles. They were kind enough to let me cherry pick.

The Past Seven Days remain quite an enigmatic contribution to the 4AD legacy. Their two 4AD songs are now preserved on CD thanks to the Natures Mortes reissue. Did they release anything else?

I really liked them as people and did actually consider working with them some more. They were supposed to sign to the Virgin offshoot Dindisc but got fucked over by them instead. Don't think they released anything else.

The My Captains EP was another rare gem from a band that seemingly disappeared shortly after their 4AD release. In the early 90s I received a letter from the band's drummer Richard Tarver and he revealed a few details but the greater knowledge of this band is very enigmatic indeed. How did you come across My Captains?

Yet another demo tape. I'm not sure whether we released the demos or if I paid for them to go into the studio. Fantastic singer.

You followed up the three singles with the sonic attack of both The Birthday party with their first album proper Prayers On Fire and the amazing debut album Mesh & Lace from Modern English. What was it like releasing two powerful albums by pioneering new bands back to back like this so early into 4AD's life?



I was, personally, surprised by Prayers On Fire. They had gone back to Australia for the Summer down under and came back pretty much having re-invented themselves. The press loved it and them forevermore.

I think they, the press, were less kind towards M.E. Somehow the boys from Colchester didn't get the same kind of seal of approval. Perhaps Beefheart and the Stooges were considered hipper influences than the likes of Wire, who were never popular in the weekly press.

For me, for 4AD, those 2 LPs established the label. The interest from overseas was enormous and there was an extremely efficient machine in place that enabled us export bucket loads. Without exports the company would never have survived or gained the devoted following it did all over the world. Stayed that way for years.

Like with In The Flat Field by Bauhaus, none of the companion singles by The Birthday Party and Modern English were included on the albums themselves. Was this a conscious choice?

The Birthday Party singles had been included on their LP back in Australia, under the name Boys Next Door. Prayers On Fire was, effectively, their second LP (or was it their 3rd?) and bore little resemblance to what had gone on before. I guess we could have released Nick The Stripper as a single but, as I hinted at before, I preferred each release to stand on its own as opposed to being a trailer for an LP.

Similarly with Modern English, the 2 singles were from a different time and recorded under different circumstances. I wish, now, that they had gone back to Spaceward to record the LP. I think it would have sounded better. I think the John Peel versions (certainly Black Houses) were better.

Modern English's Mesh & Lace also marked the first credited 23 Envelope sleeve design. At this point the label's visual identity had not been fully developed. Did Vaughan Oliver's input make you realize just how important a visual identity can be?

Not yet. That sleeve was a brave effort but not a masterpiece. The front cover photo was a bit naff, don't you think? But, thinking about it, it demonstrated greater attention to detail and suggested design possibilities way beyond previous releases. Also, remember that 23 Envelope was both Nigel Grierson and Vaughan. They chose not to differentiate between who did what and that, ultimately, was the cause of their acrimonious split.

The albums kept coming fast in 1981 – Labour Of Love from Mass was a dark, menacing triumph of atmosphere. The band dissolved shortly after the album's release but rather than a sad thing, it brought about the arrival of The Wolfgang Press to 4AD. Were you becoming more aware of band dynamics and "happy accidents" by this time?

I really enjoyed them as people and wanted to support whatever ideas they chose to pursue through music. I loved You And I but the LP was a mess. I've heard Mark Cox say himself, about Labour Of Love and The Burden Of Mules, that they were pretty good ideas executed poorly.

Band dynamics? Now there's a thing. With Mass, they were impossible. I was once taking pictures of them, intended for press purposes, and Gary and Danny started getting a bit physical. Famously, Mick cautioned "it'll end in tears". And this was 1981. As I said about Rema Rema, which contained 3 members of Mass, they were all strikingly individual and uncompromising.

Because of Gary's closeness to PK I was a bit surprised that Renegade Soundwave didn't record for Situation 2. Or maybe that was later, after Peter had gone.

What does the Mass song title F.A.H.T.C.F. mean?

Fuck All Here To Cheer For.

Bringing Colin Newman to 4AD was a nice bonus. How did it feel to have members of Wire working on projects at 4AD?

I met Colin when he recorded A-Z for Beggars. I really liked him, we got on, and love that record. He did the Singing Fish as a side project and was still contracted to BB. Because we got on he ended up doing the reverse of Bauhaus. Was it a demotion? I hope not. Graham and Bruce, having made 3 records with me, one with Rough Trade now moved on to a more permanent home with Mute.

It felt great to have been involved with them.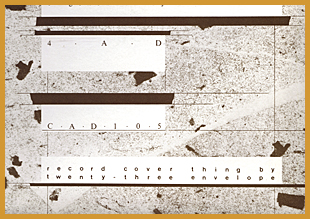 After you heard the finished tapes of Newman's Provisionally Entitled The Singing Fish what was your reaction?

I used to go to the studio regularly so was aware of it's development. I liked it a lot, then and now. I've always enjoyed instrumental music and Singing Fish was so melodic. That's Colin though.

How did you discover Dif Juz? Were they via demo or live show? Hearing the results of their first two EPs for 4AD must have been exciting as a label head.

Yet again, a demo. I think The Birthday Party were the ONLY signing to 4AD as a result of seeing them play live. Obviously it's fantastic, not to mention useful, if a group is good live but I've always been more interested in the one to one relationship between music and the individual in a private setting.

Those Dif Juz Eps are amongst my favourite 4AD releases. So ahead of their time. Where was Simon Reynolds with all his post rock nonsense then? How come he never acknowledged them later?

Why was there quite an extensive gap between the band's 1981 EPs and their subsequent full album Extractions in 1985?

I don't think they trusted me. They did record for Red Flame in the interim. It's possible that if Robin Guthrie hadn't been such a fan they might not have "come back" to 4AD. They weren't the luckiest of individuals. Dave Curtis is an extraordinarily talented man. Actually, they all were.

After their contribution to the Lonely Is An Eyesore compilation in 1987 was there any further recording by the band?

They did record, at Blackwing, with Lee "Scratch" Perry. I get asked about those sessions probably more than any other "lost" recordings. It was weird, Lee Perry really didn't seem to know what he was doing. Perhaps he was only a genius in his own studio. I asked Robin to remix everything, which was a big improvement, but Perry wouldn't allow one word of his vocal improvisations to be edited out. I decided not to release them.

At the time what was the reason given for not releasing the session? Do you think it'll ever see the light of day?

It wasn't very good. Not up to me now.

I have a press sheet for the 1986 Out Of The Trees compilation from Dif Juz that states the next album will be called Extemities. Was there an actual follow up to Extractions planned? Does this ring a bell?

Absolutely not.

Who came up with the idea for the Natures Mortes sampler album? What led you to compile this and what was the process to choose a track list?

We had an opportunity to release that year's albums through WEA in Japan. I'd been impressed by Joy Division's release of Atmosphere in France only and I think Factory/Benelux was happening. I thought it was cooler to have a Japanese only release so put together a compilation of some of the singles we'd released to date. I think I imported 500 copies and sold them in the UK.

I think the process was to make the best running order out of the tracks available.

What do you think of the CD reissue in 1997, with the added tracks?

I'm not sure I've ever listened to it but it's good that some of those extra tracks are on CD, right?

There were a few other 4AD label samplers issued in various other countries like the Dark Paths vinyl LP in Greece, issued by WEA. Were you involved in selecting track lists for these compilations or was Vaughan Oliver involved in sleeve art for any of them?

Nope. We let them do them themselves. Dark Paths (????) was kinda funny.

Is it true that on your drive home from a Dance Chapter studio session in late 1981 that you played a demo tape from the Cocteau Twins? What were your first impressions?

Yes. That's the first time I ever heard them. It would have been the Summer of 1981. I really enjoyed what I heard even though the voice was barely audible. It cheered me up because the Dance Chapter sessions were not going that well. I don't think Robin, Elizabeth or Will would be too mad if I suggested the demo was somewhat Banshee-esque!

You opened 1982 by offering a second Colin Newman solo album. More song-based, what did you think of it, especially the more commercial pop oriented direction Newman was taking?

I loved it. Maybe I missed the Mike Thorne production that had been so integral to Wire and A-Z but I really liked it.

This year also marked the first use of 4AD's initial logo, the text 4AD inside an oval. Who designed this?

Vaughan Oliver.

Where did those naked wrestling men and women on the labels come from? Were they commissioned for a photo photo shoot for the purpose of the labels?

Though, much later, the idea of hiring naked wrestling men would have seemed quite normal for 4AD, those were actually "found" images.

How did that Lydia Lunch / The Birthday Party split EP come about? Did it ever get a CD release? Same with the other 1982 EP from Rowland S. Howard and Lydia Lunch – was this borne from the success of the first EP? Did you ever want to sign Lydia Lunch to a more formal 4AD contract?

I'm not sure when Lydia met them all. Perhaps on their first US trip. Anyways, Lydia moved to London, was invited to play support for The Birthday Party at The Venue and we recorded it. At the time the 4 (?) Birthday Party songs were the only ones deemed good enough to release and the one Lydia "song" filled up the other side. It was a nice document of an interesting evening but not really very important. Perhaps that's why I never chose to put it out on CD. Not sure why it's not been done since.

The Some Velvet Morning single was such a great idea. There have been countless examples of "couples" following the original bad boy/girl Lee Hazelwood/Nancy Sinatra model but Rowland and Lydia were the first. I love that record. I gave Lydia permission to include it on a compilation CD years later.

The Tones On Tail 12" – was that the first official release by the band? In retrospect, what did you think of their later success with the Go! Single?

It was their first release. I never heard Go. In fact I was insisting, just the other day, to my wife that they never had a hit single! How funny.

FWD >>>