PRESS

For any press inquiries, please contact Judy at Motormouth Media:
judy AT motormouthmedia DOT com


---

Graphics for print and online use: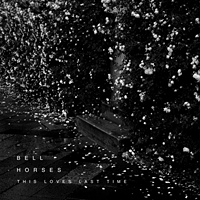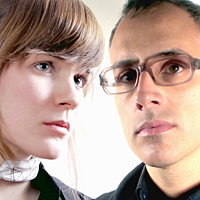 ---

REVIEWS

By Andew Duncan
ZapTown

4.5 out of 5

This Loves Last Time is one of the more charming releases of 2009 — and rightfully so. This may be the debut release for Bell Horses, but the experience runs deep for Xian Hawkins as he has done much work with labels like 4AD, Ghostly, and Temporary Residence.

And with that, it is no surprise that what you get on This Loves Last Time is a ghostly ethereal ride through the floral gardens at night and a mystical rendezvous in quaint openings of lush forestry. Strings shutter and strum through the opener "Still Life" while Jenny Owens Young strolls through the song as if she has no place to go. We see what we want to see out of this release.

The random glitches and spaced-out acoustic delicacies on songs like "Billowing" or "The Storm" make you want to wish for a foggy day so you can curl up and keep these songs close.

And then you have songs like "Photograph" which is a simply straightforward shoegaze delight.

When listening to the Bell Horses, you become intrigued with every element of the song as each instrument or sample has a special place within the song. Just as fascinating, much of this album was recorded, arranged, and mixed in a converted Victorian Church in Western Massachusetts, helping to exhume a degree of historical charm to their futuristic pop. And the way Hawkins and Owens work together is a lovely musical relationship. Despite the other projects both artists are involved with, you only hope that they continue to work together and expand with each of their talents.

But for now, we have this lush masterpiece to cherish.


---

By Jon Pareles
The New York Times

"I don't know where I belong/I don't know where I am headed," Jenny Owen Youngs sings on Bell Horses' debut album, "This Loves Last Time" (Trysquare), and the tracks can make a listener feel the same. Xian Hawkins, the album's producer, arranger, main musician and engineer, also records as Sybarite. He surrounds Bell Horses' songs in watercolor washes of sound, disembodied electronic tones, string arrangements and hovering, manipulated vocals; crackling static and spattering percussion appear and vanish with inscrutable timing. But there are clear-cut songs in the mix too. They're stately, pensive rockers for guitars, bass and drums that are sung by their lyricists: Ms. Youngs or Alexander Ericson, from the band Alberta Cross. No one monopolizes the foreground; the point is to share the gorgeous disorientation.


---

By Bradley Hartsell
In Your Speakers

The Bell Horses' first album, This Loves Last Time, may qualify as one of the most pleasantly surprising album of the year. Before importing it into iTunes I had no knowledge of the band or the album. I was actually pleased when I saw just eight songs clocking in at a little over thirty minutes (who wants to sift through a double album in the middle of mid-terms?). Then the music started playing and what issued forth was a steady stream of ethereal pop songs that all hit their marks. I couldn't get enough.

Hushed voices, airy synths, and lazy rhythm sections pervade the album. It reminds me of an acoustic version of The Knife, if only for the wispiness that cuts through their songs. The vocal duties are split between Jenny Owen Youngs and Xian Hawkins, and neither seems to have any desire to rush through a melody. Youngs and Hawkins strike a subtle balance between conventional pop instrumentation and buzzy, bleary, sampled sounds in their sleepy-but-catchy songs. "Still Life" opens the album with Youngs' voice and a stellar soft-hook that lures listeners into a mood that feels like that dozy, hazy time that comes just before you fall sleep. Xian takes over vocal duties on "Small Hours", a glitchy yet calming track. The melody rolls beneath a wash of synth and strange electronic noises while a meticulous tribal percussion provides the rhythm. "Headmess" brings Youngs' voice back, this time pulling off her best Grizzly Bear impression. The song is built on a tension-release cycle with the verses battling a choppy piano riff before flowing into a descending chorus. "Billowing" is a terrific instrumental, using an angelic melody of "ahhs" and a simple guitar riff. "The Comb" builds and extends the beauty of "Billowing", being another fantastic dream of a song with few lyrics and plenty of sighing vocals. "The Storm" has Youngs dominating the track, with great results. The airiness from the rest of the album is toned down while Youngs belts out conventional pop vocals accompanied by a fingerpicked acoustic guitar. Youngs has earned the right to show what she can do with reduced noise and sparser productions on this album, and she does not disappoint.

"Still Life" is probably the strongest single song on the album, with stiff competition from "The Comb", but there's not a weak song to be found and the album's cohesiveness is a marvel. "Dust of Us", five minutes of tranquility and warm hooks, is a fitting closer. An alternating rhythm allows the music to float away peacefully, punctuating a fine piece of work. This type of airy atmospherics and acoustic infrastructure sounds like something that would have been well suited to the soundtrack of Pan's Labyrinth. "Billowing" and "The Comb" in particular would have fit comfortably with the tone of that film: dark and cavernous, with a hint of fantasy and something whimsical. When Youngs stops her vocals in "The Comb" it's like letting go of an object in space and watching it gently twist away until it completely fades from sight.

My journalistic sources (the band's website) revealed the musical background of Youngs, whom I had actually heard before but didn't recognize immediately. Adding this information to what I knew of Xian, I knew that despite this being The Bell Horses' debut album there were some veterans running this show. Pooling their established fans together, The Bell Horses may be able to make a pretty big splash once this album makes its rounds. And they've earned the right with this finely crafted, wonderfully accessible, endlessly rewarding album.


---

Textura

Bell Horses unites the considerable talents of Xian Hawkins (who as Sybarite has issued electronic material on 4AD, Temporary Residence, and Ghostly International) with singer-songwriter Jenny Owen Youngs for the thirty-one-minute debut outing, This Loves Last Time (issued on the band's own Trysquare label). That the release is short by full-length standards isn't a crippling negative in this instance, as its eight songs leave the listener wanting more, not less. Though apparently not an official Bell Horses member, Alexander Ericson (ex-lead singer of Swedish alt-rock band The Northern Territories) might as well be, as he handles vocals on three of the tracks with Youngs tackling the other five. Alternating the singers works well and keeps the level of listening interest up—not that it necessarily needs it when the arrangements are as rich as they are here. Bell Horses' fusion of acoustic (guitars, piano, strings, percussion) and synthetic sounds and textures enables the band to differentiate its sound from that of other song-based vocal outfits.

Bell Horses's electronics-folk-pop-rock mix gets a memorable workout in the opening song "Still Life" when Youngs delivers the chorus so hauntingly; her vocal also helps distinguish the slightly softer "The Storm," which also proves entrancing on melodic grounds. Ericson shows himself to be as effective when he takes the lead in "Small Hours," with the languorous vocal line stretching itself out ever so elegantly over live-sounding drums and violin (the viola and violin playing contributed by classical string player Eve Boltax to six tracks adds considerably to the album's strong impression). The gauzy production style applied to the dreampop of "The Comb" lends the song a shoegaze quality that elevates it slightly over the album's other tracks, and having Boltax's lush string textures and Michael Lerner's drumming on board doesn't hurt either.

The album's live sound turns out to be somewhat illusory, as instrumental and vocal tracks were developed via e-mail, though the majority of the music did end up being recorded, arranged, and mixed by Hawkins in a converted Victorian Church in Western Massachusetts. Such a long-distance developmental process accords with the band name, which derives from a turn-of-the-century children's song about horses being strung with bells so as not to collide when they pass in the night. Sounding very much like the proverbial labour of love, This Loves Last Time ultimately registers as a polished and special recording that identifies Bell Horses as a band to watch.


---

By Andrew Scott
Heave Media

Bell Horses Breaks Free With Debut Album. Xian Hawkins and Jenny Owen Youngs start out solid.

Bell Horses, The latest collaboration between electronic musician, Sybarite (Xian Hawkins), and singer/songwriter, Jenny Owen Youngs, is a mash up of dreamy pop and hypnotic electronic wizardry. The unlikely duo, with the help of Alexander Ericson (Alberta Cross, Stjarna), who contributes vocals to several tracks on the album, drummer, Michael Lerner (The Antlers, Frenchkiss), and classical string player Eve Boltax, create an inspired debut album.

As eerie as it is moving, This Loves Last Time, represents an integral gap between the world of electronic music and folk-pop. With faded drumming, dreamy acoustic guitar, spacey effects and distant, gentle vocals, Bell Horses have managed to create an album this is neither here nor there. The relaxing, ambient trends that make up This Loves Last Time's unique disposition may just be what's holding it back from the true potential this band holds.

"Still Life," the album's premier track, is a shimmering exploration into a ghostly love affair. Twinkling with synthy beeps and boops, combined with strings and acoustic guitar, this track exhibits Jenny Owen Youngs' voice like no other song on this album. The mourning overtones in her typically folky style singing are stunning. "Still Life" is ghostly enough to make it enduring and thoughtful enough to make it memorable.

Keeping with the ambient theme, "The Comb," which appears about midway through the album, is vivid and flowing. The following track, "Photograph," brings back the beat with Alexander Ericson's smooth vocals combined with brighter synth leads and samples. Less murky and distant than the rest of the album, this track show's a more poppy side of the band.

After examining ambient, poppy, and dreamy elements, Bell Horses seem most at ease on the song, "The Storm." Even though it's only a smidge over two and a half minutes long, "The Storm," may be the clearest representation of Bell Horses' ideal sound. Combining all the elements that previously dominated songs, in equal doses they measure out to create an impeccably peaceful song. Not overly electronic, everything seems to be in limbo with this one. The album ends with the adequate, but not spectacular by any means, "Dust of Us." Youngs' singing is once again in top form, but the instrumentation for this one doesn't seem to be going anywhere, leaving the track regrettably anticlimactic.

While by no means a poor album in any respect, This Loves Last Time, falls just short of being memorable, but treads just far enough to provide a pleasurable listening experience. At some points this album feels a little too much like a musical tug-of-war between the backgrounds of its members, and not enough like a true melding of idea. But with a little bit of coaxing, and some time to grow, this band could be one to keep an eye out for.


---

By Breanna Hughes
Access Hollywood

Bell Horses may be a new name in the music world, but the people behind it have plenty of experience. Bell Horses is a collaboration between Xian Hawkins (also known as electronic artist Sybarite) and one of my personal favorite singer/songwriters, Jenny Owen Youngs. "This Loves Last Time" is an album composed of eight songs fusing together the talents of these two diverse musicians. It's an ideal mixture of Xian's instrumentation and Jenny's rich, honeyed voice.

The left-of-center arrangements on the album bring forth a palpable, evocative dreamy-pop sound that you rarely hear these days. Throughout this eight-song effort, Jenny's normally boisterous and animated voice and more subdued and laid back, making it easy to get completely lost in the music.

"Still Life" opens the album with Jenny's powerful vocals teetering from soft to louder through out the song, bringing the listener along for the ride, while the wistful beats in "Photograph" make the music almost tangible. "The Storm" takes a more soft and flowing route making the album certifiably varied. The album's closer, "Dust of Us," features synth-like sounds as Jenny's voice fades out only a minute into the song. Filled with a granular resonance, the entrancing tune goes straight to your head, drowning out everything else around you. All the while, Xian Hawkins' compositions create a whole new type of musical language.

It's hard to pinpoint the exact sound Bell Horses is going for on this experimental pop album, but that's what makes it so enjoyable. It's the element of anticipation over what you're going to hear next. "This Loves Last Time" was recorded, arranged and mixed in Victorian Church in Western Mass, a fitting location for such an ethereal sounding album.


---

By William Ward
Washington Square News

4.5 stars

This is a city that seems to pride itself on compounding stress. Subways depart within seconds of arriving, cyclists dodge pedestrians at crosswalks, and car horns blare in every direction. But there's hope yet — an escape, if you will, that can be found in the ambient soundscapes of Bell Horses' debut album "This Loves Last Time."

The opening surges of strings in "Still Life" soon give way to a softly chirping guitar, a bass guitar coated in stardust and the randomized twittering of electronic blips. Jenny Owen Youngs' fragile croons are supplanted by a soaring, melancholy call to a lover in the chorus.

"Billowing," the midpoint track of the album, features a variety of delectable experimental textures, ranging from reverberating, ghostly vocals to a funky crescendo of electro-strings and pattering percussion.

One of the band's most arresting achievements, "The Storm," begins with a whisper of electronic mist, dissolving into a melodic acoustic guitar accompanied by the carefully delivered "I can't wait/To find your heart." The whispering mist returns periodically, as if trying to strangle the resolve of the vocalist. But Youngs' plucking becomes more determined, and she employs punchy yet delicate drums and rattles, eventually prevailing over her assailant.

The final track, "Dust of Us," begins with confident strumming and pounding percussion, carrying over the momentum from the previous song. Interspersed in the mix, however, are screeching bleeps and a reverberating storm of sonic disruption. Youngs strains her voice to be heard just before the storm takes over, drowning the percussion and guitar, reducing them to nothing. Ominous whistling signals the end of a relationship, finally subsiding as the track ends.

"This Loves Last Time" suggests falling beauty, and it takes the listener along in that decline. It soothes with its melodious vocals and the quiet, settling fog of electronica.


---

By Jeff Terich
Treble Media

One of the more notable trends of the past decade has been the pairing of sensitive indie rock types with laptop composers. Thankfully, its ubiquity has also produced some of the best pop music in the past ten years, from The Notwist's further excursions into electronic composition, to Jimmy Tamborello and Ben Gibbard's priority mail collaborations, to Röyksopp's work with Annie, Erlend Øye and Karin Drejer Andersson. Xian Hawkins, better known as Sybarite, runs with a similar idea on This Loves Last Time, the first album by Bell Horses. With guest vocals by singer-songwriters Jenny Owen Youngs and Alexander Ericson, Hawkins swirls up a gorgeous dream world where the electronic and the acoustic converge and blur into one gauzy whole.

This Loves Last Time is at its core a collaboration between Hawkins, Youngs and Ericson, though a variety of other musicians add layers upon layers of glorious ornamentation to each track, including violinist Eve Boltax and Antlers drummer Michael Lerner, whose percussion adds a powerful backing to "Still Life" and "The Comb." But even at their densest, Bell Horses make an atmospheric, almost weightless style of music, one that will find the listener all too willing to be pulled up into the cosmos with it. "Still Life" bounces and glides along gentle acoustic guitars and sputtering electronic percussion, as Youngs' voice soars above the blissful backing. "Small Hours" is even softer around the edges, and Ericson's voice is more restrained and serene than Youngs', which creates a strong juxtaposition between the two singers' styles. That they trade off just about every other song keeps the album well balanced, which is well evident in the elaborately arranged and just plain gorgeous "Headmess," a track built around jazzy piano melodies and a breezy rhythm. Yet "Billowing" proves to be one of the most exciting tracks of all, as Hawkins lays down some high energy IDM beats as the song's various elements spin and cascade into an irresistible whirlwind.

By and large, This Loves Last Time is a serene and soothing album, an easy record to get lost in or let wash over you. But within each track are numerous sonic delights, little bits and pieces of intricate detail that each contributor adds to make for intriguing repeat listens. Bell Horses may not be a full time gig for each musician involved, but their first effort is beautiful enough to make me hope that this won't be their last album.

Similar Albums:
DNTEL - Life Is Full of Possibilities
Sybarite - Nonument
Múm - Finally We Are No One


---

By Jason Ferguson
Orlando Weekly

The new project from Xian Hawkins (of the legendary Silver Apples) is called Bell Horses and it's a collaboration between him and singer-songwriters Jenny Owen Youngs and Alexander Hawkins. On This Loves Last Time, the three tap into the vein of glitch-folk that's proven so interesting over the past few years, but instead of another Morr Music soundalike, Bell Horses are a little weirder. The songs written by Youngs and Hawkins are beautiful and well-crafted, but Hawkins splits the difference between the oscillating freakouts of the Silver Apples and the robotic swirl of Sybarite to craft backing tracks that are bracing and steeped in retro-futurism.


---

By William Trinity
Stereo Subversion

With their debut album This Loves Last Time, Bell Horses shoot to compose an album that bounces between genres while staying steady in creating one unified sound. Synth-driven beats, acoustic guitars, and haunting, folk-oriented vocals are blended together to create atmospheric, ambient songs.

This fusion is best utilized on the opening song "Still Life." With a hint of strings and eerie guitars providing the pace, the synth beat paints a dark melody that portrays the song's theme of loss. The production finds a perfect balance between the electronic and acoustic elements. The strongest performance on the album comes from the female vocals on this track. Indie pop singer-songwriter Jenny Owen Youngs has never sounded so distant, wounded, or plush.

Bell Horses is a collaborative band consisting of electronica artist Xian Hawkins (who normally records under the pseudonym Sybarite) and Youngs, with assistance from Michael Lerner (The Antlers) and Alexander Ericson (Alberta Cross). Each member of the collective reordered their contributions on their own with Hawkins composing the songs after receiving them via email. As Young describes in her MySpace blog, "I received a MySpace message from a gentleman named Xian, asking if I might be interested in collaborating with him on some new recordings… Xian has been sanding, fine-tuning, and perfecting these songs for a good long while." In this, the heart of Bell Horses and This Loves Last Time comes from Hawkins' ability to weave these separate parts into cohesive arrangements.

Indeed the album does a fine job of melding its separate parts, while simultaneously exploring the sound of each of those elements. "Billowing" is straight ambient that utilizes a drum 'n bass beat and acoustic guitar for an all instrumental effects; the only vocals come from harmonizing that is mixed down to act as an instrument itself. Several songs are very pop friendly including "The Storm" which sounds like it could have come straight off of one of Youngs' solo albums. Album closer "Dust of Us" also is very assessable for the masses and features a less tortured Youngs than the opening song.

There aren't any major missteps on the album. However with only eight songs to explore Bell Horses really don't stray far from models that are already out. For example, the tracks "Small Hours" and "Headmess" use the vocals of Ericson in a very Thom Yorke-ish manor and both resemble something circa Kid A-era Radiohead.

In the end Xian Hawkins has efficiently done what many electronica producers try to do with less impressive results— assemble elements from different musical worlds to one symphonic structure. It would be interesting to see if Bell Horses records a follow-up, and what kind of material could surface if these musicians actually spent time in a studio together. For now This Loves Last Time will do, and there's really nothing wrong with that.


---

By Alexandra Kelley
The Agit Reader

When you take in an impressionist painting, it can be a little overwhelming to digest all of the parts that helped build the whole. I feel the same way about Bell Horses' debut record, This Loves Last Time. I keep thinking that after enough times I'll master it and memorize every beat, only to play it again and hear a rush of noises I didn't notice before. It's starting to freak me out. But I suppose that was the point of this amoebic side project created by two busy multi-instrumentalists who didn't actually record together. In essence, it was a sonic pen-pal experiment that was passed back and forth between Berlin, Brooklyn, London, and a converted Victorian church in Western Massachusetts. It's an even mixture of acoustic and digital sounds spooned into a giant cauldron of whirred vocals. It's as mellow as it is catchy, and as accessible as it is labyrinthine.

Bell Horses is Xian Hawkins, who records under the Sybarite alias and has performed with Silver Apples, and hot schoolgirl-esque chanteuse Jenny Owen Youngs, who released two solo albums on Nettwerk and gained acclaim for her wry version of Nelly's "Hot in Herre." This Loves Last Time shows off their ability to filter guitars, piano, strings and percussion through buzzy, zappy synths and samples. Jenny's voice is close and crisp, like an American Beth Orton, throughout the rolling melodies of "The Comb" and "Dust Of Us." Tripped up echoes and distortion in "Headmess" take on a Broken Social Scene, and nearly Radiohead, vibe. Several tracks feature Alexander Ericson (the Northern Territories) on vocals, Michael Lerner (the Antlers) on percussion, and Eve Boltax on classical violin and viola, and the record was mastered by Denis Blackham (Brian Eno, Cocteau Twins) in Scotland. With eight songs adding up to around a half hour, This Loves Last Time would obviously benefit from a few additional cuts. Like electronica's answer to travelling gnomes or Flat Stanley, it proves that music can thrive under organic yet fragmented circumstances.


---

One Track Mind

On October 13th, the duo of Jenny Owen Youngs and Xian Hawkins will release the first installment of their collaboration as Bell Horses. Hawkins has made a name for himself through his recordings under the Sybarite moniker on labels such as Ghostly International and 4AD, as well as the third member in the reunited incarnation of experimental electronic music pioneers Silver Apples. Youngs has two well-received solo records under her belt, but is perhaps most infamous for her cover of Nelly's "Hot in Herre." Having attended college at SUNY-Purchase around the same time as anti-folk artists Langhorne Slim, Regina Spektor, and the Moldy Peaches' Adam Green and Kimya Dawson, it shouldn't be a surprise to find her music populated by both moments of childlike whimsy and occasional bits of lush orchestration.

When the pair unite their divergent backgrounds under the Bell Horses flag, the proceedings are a marriage of Hawkins' spacey textures and Young's facility with constructing fragile yet insinuating melodies. "Dust of Us," the final track on This Loves Last Time, is unambiguously patterned on the dream-pop lineage of artists such as Damon and Naomi and the Cocteau Twins, but blends the typical celestial fringe with a grainy, electronic fog. At nearly five minutes in length, "Dust of Us" has plenty of time to play up its elements of airiness and haze, creating a spacious arena to house Young's scale-climbing vocals. It is a song built not on catchy choruses or memorable lyrics, but rather a more impressionistic imprint, and fans of everything from Spiritualized to Low should find plenty to enjoy in this track.


---

By Anthony Mark Happel
Impose Magazine

Bell Horses is a collaborative project combining the varied talents of Xian Hawkins, of Sybarite and Silver Apples, and Jenny Owens Young into a quasi-orchestrated, beatific ride that touches down for a few shining moments in the halcyon days of 4AD Records, along with a few other mythical places.

They are joined on several songs by drummer Michael Lerner, from The Antlers, and violinist/violist Eve Boltax. Hawkins has received lots of good press for his work in Sybarite, recorded for numerous labels (4AD, Temporary Residence, Ghostly International). Some of that stuff leaves off where this record begins, although here they subsume an even greater amount of raw material than might be expected at first blush. Hawkins' illusive post-electronica provides an appropriate backdrop for the sometimes psychedelic, sometimes languid musings they came up with for this album, which they released on their own label. It's difficult not to cite His Name Is Alive, Portishead or Cocteau Twins as certain parts float by, and this record can hold it's head high alongside those giants, but after those particular passages fade away it occurs to me that this is a form of intellectual laziness.

Still, Hawkins' songs bring together an ambience along with a kind of abstract post-rock sound in such a way that it enables them to jump back and forth between the two worlds with relative ease. The first song, "Still Life," lends itself nicely to Jenny's powerful and impressive dynamic vocal breaks, and it establishes a fairly high standard, although it becomes a little too beat-driven, and predictable, when they drop hi-hat triplets (or quadruplets) that sound way too programmed in the midst of everything else that's happening around them. "Small Hours" displays a cinematic film score quality, and also has a tune inside of its overcoat. "Headmess" drops acid and gets trippy like a Cocteau Twins-lite project (there you go), and "Billowing" drops acid and gets trippy with The Sea & Cake. They drift off-course a little on the last couple songs, but six winners out of eight entries ain't too bad, especially these days.


---

By Mia
Chubby Jones

Jenny Owen Youngs and Xian Hawkins both have impressive solo careers but combined forces to create Bell Horses. The collaboration is very much a mixture of organic and inorganic elements. Their debut album, This Loves Last Time, is filled with beautiful string arrangements weaved within electronic elements.

Each song seems to express a hint of yearning, with the vocals being strained regardless of whether Owen Youngs or Alexander Ericson, who lends his vocals, is taking the lead. This might be a stretch but it could be because the duo recorded the album long distance. In a similar fashion as The Kills, Xian and Jenny laid down tracks and then sent them back and forth to each other via email, never actually recording in the same space.

Standout tracks include "Still Life" which is the strongest in piecing together the electronic and string. We seem to be following Owen Youngs on a journey until she reaches her breaking point. "Headmess" stands out for being more delicate than the others. "Small Hours" is the most masculine of the eight songs.

It's a hard album to speak of lyrically since the words almost seem secondary. The instrumentals are so powerful they tend to drown out the voices or blend them into the instruments themselves.

Overall this is a very strong experimental collaboration. Can you dance to it? No, but it will take you outside of your element and bring you on a pleasurable, if not ghostly, world.

The album drops this October.