Zooey the Singer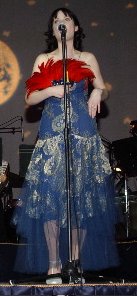 Since Elf came out I've gotten a flood of emails in my mailbox asking about Zooey's singing. I don't have time to answer them all, so I'm making this separate page for frequently asked questions about Zooey's singing career.
Is that really Zooey singing in Elf?
Yes sir, it is.
Where else can I hear her sing?
She and fellow actress/friend Samantha Selton comprise the cabaret act If All the Stars Were Pretty Babies. They perform around Los Angeles whenever Zooey isn't on location for a film. I usually don't know about their performances beforehand, so if you live in LA, keep an eye on the entertainment section of the paper. She can also be heard singing in the film The New Guy and is currently filming the made-for-TV musical Once Upon a Mattress.
NEWS Zooey has recently recorded a track called "You're the Reason" for Ben Lee's upcoming release "A Mix Tape." The track is said to be a 1950 Phil Spector-ish tune on which Zooey also plays the piano.
Does she have a CD?
Nope.
Are there any plans for a CD?
Not currently, but hopefully things with change with time.
Do you have any live recordings of the Pretty Babies?
Nope, I've never seen them perform and I don't have any recordings.
Can we start some sort of petition for a Zooey CD?
Um, well, Zooey isn't going to record a CD unless she wants to. But, feel free to write her with your praises for her singing, and maybe she'll think about it. ;)
c/o Endeavor Agency
9701 Wilshire Boulevard
10th Floor
Beverly Hills, CA 90210