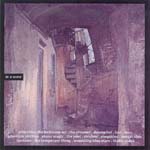 In A Sense

This is meant to be a celebration cd, but do not take this too literally...

As Rivulets set the ball rolling with the delicate "Swans", taken from their debut self-titled album on Chairkickers, they reveal a rare intimacy and an utter melancholy that fill the room with a warm and valuable darkness. And it's like a celebration indeed, maybe the most convenient it could be, after four years of focusing on music that touches the soul and appeals to all the senses. Well, at least, in a sense. Click cover image to enlarge

Next, Piano Magic unveil a brand new song called "Saint Marie", the full version of which will appear on their forthcoming full-length album planned as an autumn 2003 release. Starting as a classic Piano Magic number to dissolve into a gentle and addictive breakbeat, it's music for that time of day which stands between late night and early morning.

Trembling Blue Stars who follow add their heartbroken and breezy songwriting class with the demo of a new song called "If I Handle You With Care". This participation will come as no surprise to all the readers who are taken by surprise if a new issue of "Sense" does *not* have the words "trembling blue stars" on it - in that order!

The Temporary Thing change the landscape into an irresistible alt.country scenery, while memories of Donovan and Nick Drake come to mind. "This Ain't Love" is taken from their self-released self-titled album and sounds like the perfect ode to heartbreak.

Speaking of heartbreak, few people have excelled at portraying sadness and quiteness with such beauty than Low. Here, they participate with a fairly upbeat number called "Shots And Ladders 2", which was a b-side for last year's "Canada" single.

While Finland is not exactly known for its pop music tradition, it comes as a great surprise that it has spawned one of the very finest pop bands of the last few years: Artisokka is everything you want a pop band to be, and "Never Leave Me", taken from their debut mini lp "A Hiding Place In The Arbor" on Shelflife Records is just one sample of their total brightness.

"I've Been Riding With The Ghost" by Songs: Ohia that comes next is equally brilliant, sporting a relatively careless Jason Molina whose recent offering "The Magnolia Electric Co" is said to be his most extrovert record to date.

From relative backgrounds come The Post, an amazing act that continues in all glory what Slint started with "Spiderland" over a decade ago. After having released a breath-taking debut "Backwards", The Post are currently recording their second album and here they contribute an exclusive song, the awesome "Where Can I See My House From The Satelites".

Some may be familiar with Downpilot, except that they probably remember them as Down Pilot rather than Downpilot; the band from Seattle was featured on last year's 5-song Sense sampler "On The Shore" and had made a big impression then. With a second album on the way, one of its songs, "Mapmaker", is first heard on this compilation, confirming our enthusiastic comparisons with REM's "Automatic For The People".

The inspired NY duo known as The Bedroom Set follow with the perfection of "Cindy", a song that captures the magic of the '80s with keyboards, drum machines and all, managing to stand between where Joy Division ended and New Order began.

New Order seem to be one of the main influences of Simpatico too, a delicious one-man pop project which gave us one of the best albums for 2002, entitled "The Distance Between Alone And Lonely", from which "Drove It Down" is taken.

The colours remain pop, as Greek pop legends The Crooner dive into the subtle and emotional rhythm of "Mellowdrama", a wistful song which first appeared on their 2000's "Soft Escape" album.

Nostalgia emerges again with Spokane's "The Absentee" from their 2001 masterpiece "The Proud Graduates", one of the most delicate and sensual moments of this cd.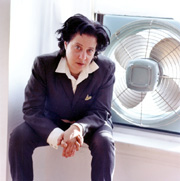 And it continues with the slow nonchanlence and eroticism of Mus with a song taken from "El Naval", the dreamiest record to be released in 2002.

"In A Sense" ends with two ingenius songwriters, each of whom have written their own glorious pages in the history of music...

From the days of Grant Lee Buffalo, it could be easily foreseen that Grant-Lee Phillips would sooner or later follow the road that suited him best: that of a loner. His haunted voice and unique songwriting vein is evident in "You're A Pony", the opener from his rare debut solo album "Ladies' Love Oracle".

After almost two decades in various legendary bands such as Uzi, Live Skull or Come, Thalia Zedek has recently started a solo journey too. Her debut album "Been Here And Gone" was a more quiet affair than her previous recordings, but it was imbued by the very same depth of emotions, inner despair and unusual poetry. "Angels" is a brand new song unavailable anywhere else, and it finishes the compilation with a lush note of intimacy and gentle cosiness.

Tracklisting:

1. Rivulets - Swans
2. Piano Magic - Saint Marie (abridged)
3. Trembling Blue Stars - If I Handle You With Care (demo)
4. The Temporary Thing - This Ain't Love
5. Low - Shots & Ladders 2
6. Artisokka - Never Leave Me
7. Songs: Ohia - I've Been Riding With The Ghost
8. The Post - Where Can I See My House From The Satellites
9. Downpilot - Mapmaker
10. The Bedroom Set - Cindy
11. Simpatico - Drove It Down
12. The Crooner - Mellowdrama
13. Spokane - The Absentee
14. Mus - Casi Ensin Zarrar Los Gueyos
15. Grant-Lee Phillips - You're A Pony
16. Thalia Zedek - Angels

The cd was mastered by The Crooner's Makis P. The artwork was designed by Michalis Kavadias and Sense. The original cover painting was created by Maria Filopoulou in 1991.

"In A Sense" is limited to 800 copies and will be given away with Sense #30.

The price for the zine and the compilation - including postage - is 4.50 euro for Greece, 5.50 euro for Europe and 6 euro (or US dollars) for everywhere else. If you want to order a copy, please send us a message.