I first discovered Easterhouse in 1986 as a 17 year old kid. I really didn't know much about the band at all but I knew about the Rough Trade label, home of The Smiths.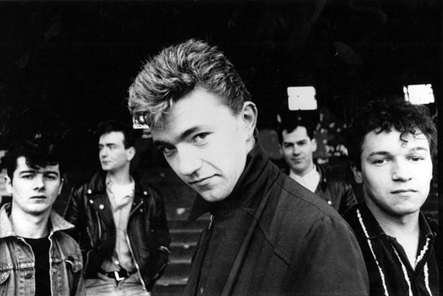 Rough Trade had just signed a big distribution deal with Columbia/CBS Records in the US (now known as Sony Music Entertainment). Under this new arrangement, Rough Trade bands like Shelleyan Orphan, The Woodentops and Easterhouse would now be available in the US as domestic records, cassettes and compact discs at decent prices.

I was instantly struck by the first album by Easterhouse right from seeing the front cover in the record store - black background with the white text of the band name and song titles. The band name was so big it was truncated at the "O", where it resumed on the back cover. It was all just so intriguing!

When I first played the vinyl record of Contenders I wasn't sure what to expect. My ears were immediately taken by the music and the lyrics. First of all, this wasn't some low key, background music. It demanded attention. It had something to say, something important.

It was about your life, your place in the world and how you had to fight for everything you needed.

Brothers Andy and Ivor Perry, from Stretford, near Manchester, were the soul of the band, with Peter Vanden on bass, Gary Rostock on drums and Mike Murray playing the rhythm guitar. Andy sang the songs - and he did so with complete and utter conviction.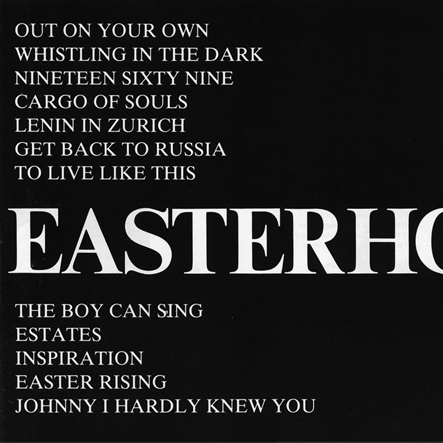 Prior to Contenders, the band had only released a few singles. Their first release was the In Our Own Hands EP, released by London Records in 1985. The London deal was fleeting but by 1986 the band was a true force to be reckoned with and Contenders signalled the arrival of an important new band, one that combined politics and matters of the heart in a manner that was striking and compelling.

Now, when initially released in 1986, the Contenders album was issued on vinyl, cassette and CD in both the UK and US. The UK CD added a few extra bonus tracks.

Fast forward to 2001 and Cherry Red Records in the UK decided to reissue the album with even further bonus tracks. This was great news and I was super excited by it. However, the reissued CD was a disappointment, sounding as if it had been mastered off a scratchy vinyl pressing!

Could this really be the legacy of Easterhouse? The band certainly deserve better for posterity's sake!

As a result of this disappointment, I used the situation as an opportunity to try do it RIGHT. I decided to make a "fantasy" edition of Contenders, using the best of the 1986 CDs from Rough Trade and tweaking the sounds to be the best they could be. I also sought out the best condition vinyl singles for songs that had never been on CD and appended them to the "new" album as bonus tracks. I even added the In Our Own Hands EP, just for the sake of insuring it is saved for posterity as well.

Here is my "fantasy" Contenders reissue CDR: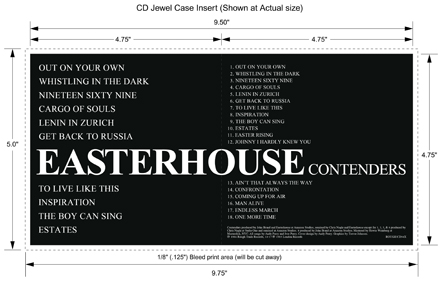 1. OUT ON YOUR OWN
2. WHISTLING IN THE DARK
3. NINETEEN SIXTY NINE
4. CARGO OF SOULS
5. LENIN IN ZURICH
6. GET BACK TO RUSSIA
7. TO LIVE LIKE THIS
8. INSPIRATION
9. THE BOY CAN SING
10. ESTATES
11. EASTER RISING
12. JOHNNY I HARDLY KNEW YOU
13. AIN'T THAT ALWAYS THE WAY
14. CONFRONTATION
15. COMING UP FOR AIR
16. MAN ALIVE
17. ENDLESS MARCH
18. ONE MORE TIME

And while not given any love by the critics, the 1989 album by Easterhouse, Waiting For The Redbird, has never seen a remastered reissue and I'm not even sure if it's available on download services like iTunes.

By 1989, Ivor had left as did most of the other band members, leaving the Easterhouse name under the care of Andy. The resulting second album was a much more radio-friendly sounding album compared to Contenders but was no less political and thoughtful.

I love Waiting For The Redbird so much I made plans to create a "fantasy" version as well.

You may recognize the single Come Out Fighting. It had a brief moment of popularity due to its use on sports TV programs. I found the single for Come Out Fighting and added the b-sides to this new version as well as interesting remixes by Justin Strauss and Chris Lord-Alge.

Check out my expanded Waiting For The Redbird below: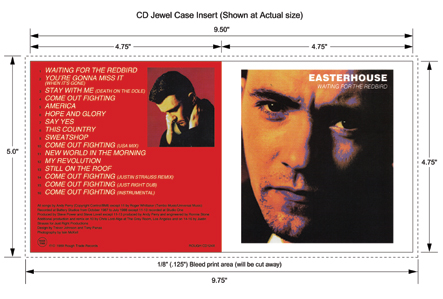 1. WAITING FOR THE REDBIRD
2. YOU'RE GONNA MISS IT (WHEN IT'S GONE)
3. STAY WITH ME (DEATH ON THE DOLE)
4. COME OUT FIGHTING
5. AMERICA
6. HOPE AND GLORY
7. SAY YES
8. THIS COUNTRY
9. SWEATSHOP
10. COME OUT FIGHTING (USA MIX)
11. NEW WORLD IN THE MORNING
12. MY REVOLUTION
13. STILL ON THE ROOF
14. COME OUT FIGHTING (JUSTIN STRAUSS REMIX)
15. COME OUT FIGHTING (JUST RIGHT DUB)
16. COME OUT FIGHTING (INSTRUMENTAL)

Sadly, these "fantasy" expanded versions of Contenders and Waiting For The Redbird remain just that - fantasies. I doubt any label will step up and remaster these two underdog albums anytime soon, which is really sad.

If you enjoy Easterhouse and would like to see their albums remastered and reissued properly, please contact Cherry Red, Rough Trade or Sony Music. Someone owns these albums and really ought to maintain the Easterhouse legacy before too much time goes by.

Thanks for reading!

Jeff aka Fedge
April 2012